NAVISAFE
NAVISAFE – Headlamp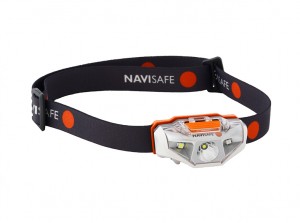 The new Navisafe Headlamp contains all functions needed to make it the Sailor's first choice: a red light to preserve night vision, a white floodlight to light the whole sail, and an ultra-powerful distance light shining up to 70 m plus tilt function for exact and comfortable beam positioning. It weighs only 68 g including the single AA Battery. The Headlamp is IPX6 classified and withstands heavy splashing and rain.
Navisafe Smart Mode Switch:
Press and hold for 0.5 s to activate the red light. If the red light is ON for more than 3 PRESS the switch again and the light turns OFF
To activate the white light PRESS and HOLD for 0.5 s and activate the red light, PRESS again quickly and enter into white light mode
PRESS again quickly to get to the next mode
In ANY mode: PRESS and HOLD for 1.5 s to turn light OFF
Navi light TriColor 2NM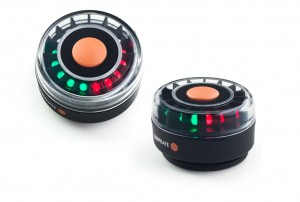 The Navi light TriColor 2NM  includes a green light to be shown at the starboard side and a red light to be shown at the port side. In addition, it includes the white Sternlight, to be used at the stern. It is battery operated, uses super bright LED light, is water proof, floats and attaches almost anywhere through its double magnetic mounting system.