Since 1902, Epifanes has been setting the highest standards of paint quality in beauty, preservation and performance.
They develop and manufacture the finest marine coatings possible. No other finish is required to look as beautiful, and perform as well, in such an adverse environment as a yacht coating. They strive to develop products which exceed these demands.
Through state of the art technology and the use of the finest ingredients, we ensure Epifanes Yacht Coatings will always be the choice for those who demand quality.
For more information, please visit www.epifanes.com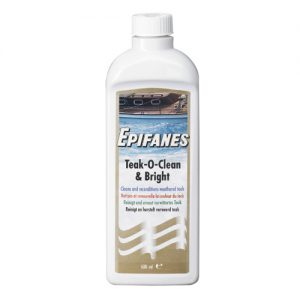 Epifanes Teak-O-Clean & Bright
Epifanes Teak-O-Clean & Bright a water based cleaner and brightener for teak and other hardwoods. The friendly formulation easily cleans and restores weathered grey teak to its original colour.
Availabile in 500ml
Epifanes Seapower Cleaner and Wax
The No 1 product in the Epifanes Seapower range. It is a one step cleaner/wax containing the finest Carnauba wax. Very easy to apply, providing maximum protection for several months. In one single application it removes surface-oxidation, dirt and water streaks and also protects the surface, making it water resistant and produces a long-lasting glossy finish. Can be applied in full sunshine and therefore, suitable for use even in the tropics.
Availabile in 500ml,1l & 5l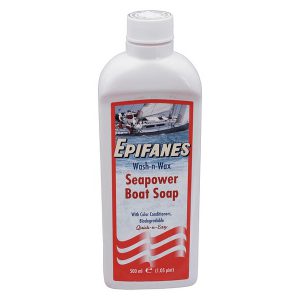 Epifanes Seapower Wash 'n' Wax Boat Soap
Unlike most other soap brands, this highly concentrated product provides a clean, water resistant and streak-free film without removing the existing protective wax layer. It even adds strength to the existing wax layer. Wash-n-Wax Boat Soap is bio-degradable, pH-neutral and can be used on fibreglass, metal, rubber, wood and other types of (painted) surfaces. Epifanes Seapower Wash-n-Wax is very economical to use
Available in 500ml & 5l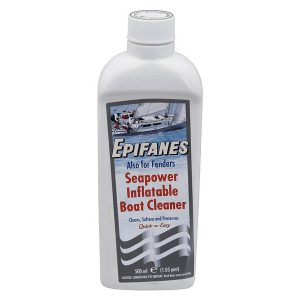 Epifanes Seapower Inflatable Boat Cleaner
The formula of the Epifanes Seapower Inflatable Boat Cleaner has been specially developed for cleaning and maintaining all butyl, hypalon, rubber and vinyl boats and surfaces. It slows down the ageing process considerably, prevents drying out and cracking and removes ingrained dirt, tar, diesel oil, scuff marks etc. Seapower Inflatable Boat Cleaner is also excellent for cleaning fenders. After treatment, they will not become stricky when exposed to sunlight, like other cleaners. Our cleaner also reduces fender squeaks, familiar to all who lie alongside.
Available in 500ml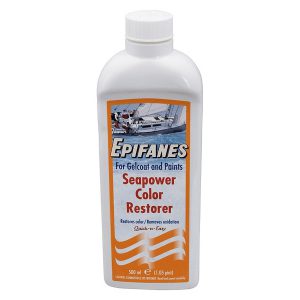 Epifanes Seapower Color Restorer
Seapower Color Restorer renews the original color and gloss to all faded gelcoat surfaces without damaging the gelcoat itself. Color Restorer removes severe oxidation, dirt deposits and dullness, producing a fresh looking surface. This product is appropriate for all colors. Even dark colored gelcoats and paints are restored to "like new" condition.
Available in 500ml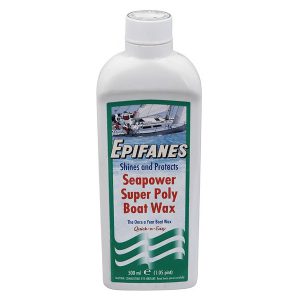 Epifanes Super Poly Boat Wax
The ultimate "Sun block" for boats, cars and mobile homes. Super Poly Boat Wax contains 100% pure Carnauba wax providing maximum protection against weathering and UV exposure. Suitable for fibreglass, metals and all painted and varnished surfaces providing a high gloss finish capable of lasting a complete season. This "once a year" wax is famous for its ease of use and its ability to resist severe pounding of (salt) water and exposure to ultra violet radiation.
Available in 500ml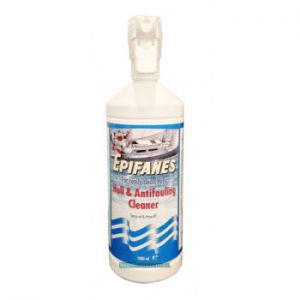 Epifanes Hull & Antifouling Cleaner
Removes algae, chalk, oil stains etc. from the boat skin  At the end of the  season the topsides and waterline are often covered with algae, oil residue and other contamination. If not removed quickly, this can cause permanent staining and even damage to the hull. Epifanes Hull & Antifouling Cleaner effectively addresses all degrees of persistent contamination. The special formulation ensures quick and effective cleaning without attacking the surface of the hull. Spray on, allow to react and rinse, it's that simple.
This product replaces Seapower Hull Cleaner. Available in 500ml. Improved product at a much lower price!