There are three important factors when talking of quality in connection with fenders and buoys, namely the rope attachment (the eye), the valve and the "body" of the fender.
Consequently, for its Heavy-Duty products, DAN-FENDER has chosen to have massive injection-moulded eyes, which are the absolutely strongest eyes of the market. Likewise we have decided to use metal valves in stead of plastic valves, used in other brands. Our metal valve makes inflation of DAN-FENDER products easy and the air remains where it has to be – in the fender/buoy.
The production of fenders/buoys (rotation moulding) may result in the presence of small invisible air holes in the material, as a consequence of which the product cannot keep the air. In order to test this, all products are tested under water, prior to being delivered to our customers, as a guarantee of the fact that the products delivered will also function as intended. These hidden qualities offer safety to your boat and your fishing.
For more information, please visit www.danfender.com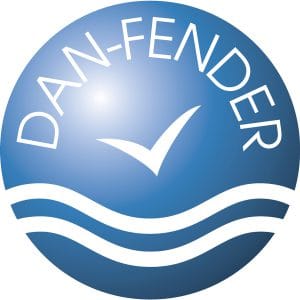 Correct use of Mooring Buoys
Buoys must be carefully chosen to carry the weight needed. If the buoy does not lie correctly in the water, the mooring will be unsatisfactory. The anchorchain must always be tied to the mooring loop under water. The anchorchain must never be tied to the upper lifting loop!
Fender and Buoy inflation
How do I inflate my DAN-FENDER ® product?
The most simple way is to use an ordinary compressor including the accessory air pistol and then:
Remove the plastic screw (if there is one).
Press the air pistol against the metal valve.
Blow air into the fender/buoy (0.15 bar at 20 degrees C).
A fender/buoy shall NOT be as hard as a stone. It shall be easy to form a soft "dent" by pressing.
Screw on the plastic screw (if there is one).
Now your fender/buoys are ready for use – have fun!
10′
20″
312L
11-18′
30″
416L
517
712
17-23′
40″
520L, 520, 623L,
623, 822
622
712, 814
24-30′
50″
822, 827
819, 824
814
31-45′
50″/60″
827, 1025, 1035
824
46-60′
60/75″
1232, 1242
61′-
75/100/120/135″
1242, 1550, 2255,
3282